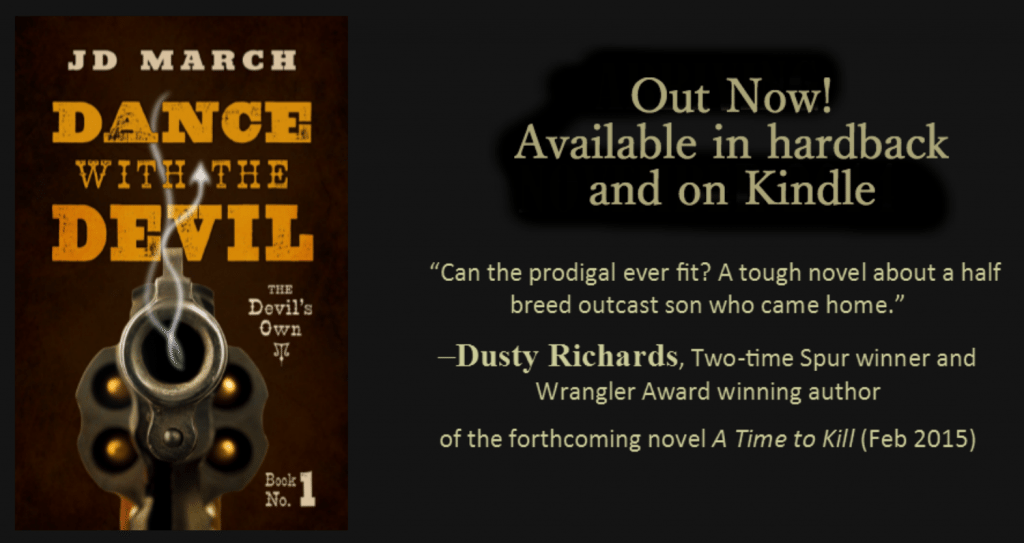 Dance With The Devil Is Out Now!
I'm delighted to say that Dance with the Devil is available from all good bookstores (including Amazon) and is also available for download on Kindle.
Dance with the Devil
First book of "The Devil's Own" series.
Gunfighter Johnny Fierro has been hunting trouble and a reputation all his life. Left on his own in the Mexican border towns at an early age, he's a hard, dangerous man who doesn't let anything or anyone get in his way. Fierro clawed his way to the top, but now that he's there, he's tired of the killings and range wars – until he hears that his father faces a battle to hold onto his land in the Cimarron Valley.
Fierro has always sworn to kill his father if he ever met the man, so this is too good an opportunity to miss. He heads north with revenge in mind. What he didn't bargain for is a brother he never knew existed, or his father's offer to give him a share of the ranch. While his upright, authoritarian father and Harvard-educated brother struggle to come to terms with his violent past and vicious reputation, Fierro wrestles with the unwelcome realization that his mother didn't tell him the whole story about the past. He doesn't know what to believe, but he has to make a choice when the bullets start flying.

---
Book Reviews
"J. D. March's Dance With The Devil will be one of those books that will be hard for you to put down"
"If you enjoy an action-packed Western populated with characters you will come to care about, J. D. March's Dance With The Devil will be one of those books that will be hard for you to put down.
The story unfolds with the main character, a gunfighter named Johnny Fierro, awaiting his hanging in a Mexican jail. Estranged from his family at an early age, Fierro grows up vowing to kill his own father who Fierro believes deserted his mother and him. Unknown to Fierro, his father Guthrie Sinclair tirelessly searched for him over the years. Add another son, Guy Sinclair, brought up in eastern high society, who must head west to his father's ranch to escape a few indiscretions, brings to a boil an intricate family feud when all three men are thrown together as the family and ranch come under attack from outside forces. You'll love and hate all three men and just want to bash their heads together. The story surely is an entertaining dance with the devil.
This is JD March's first novel in the series, The Devil's Own. I look forward to read the continuing saga of the Sinclair family."
Bill Markley,
author of Deadwood's Deadmen.
____________________________________________
"Johnny Fierro, bitter and deadly…"
"Johnny Fierro, bitter and deadly. A combination readers will love to hate."
–Monty McCord,
Peacemaker Award winning author of
Mundy's Law – The Legend of Joe Mundy.