So another Western Writers of America convention has come and gone. It was, as always, a huge success thanks to all of the hard work by the board members and director Candy Moulton. They put on a great programme of events covering a wide array of topics, ensuring that there was something to satisfy everyone's interests. Panels included book distribution, writing about Comanches, Buffalo soldiers, the craft of writing, and frontier ranch women. And of course there was the opportunity for writers to meet with individual editors, agents and publicists.
But the convention is also a great place to catch up with old friends and meet new ones. It's a very sociable event for people with one thing in common – a passion for the West. It's a glorious melting pot of historians, poets, fiction writers and musicians. And an added bonus is that each evening, musicians and singers gather to provide great entertainment.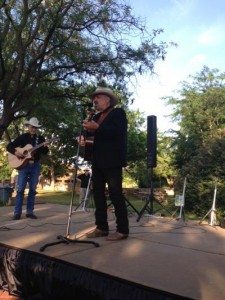 It's hard to pinpoint a highlight, because there are so many seminal moments. But for me, perhaps the most moving event was the the Western Writers Hall of Fame induction at the National Ranching Heritage Centre. It was a wonderful opportunity to honor writers, directors and actors who have all made a significant contribution to ensuring that the history of the American West lives on through their work. This year saw the induction of the first living members including Win Blevins whose mountain man classic novel, Give Your Heart to the Hawks, has never been out of print since being first published more than forty years ago. The evening concluded with dinner outside while Jon Chandler, Jim Jones, Andy Hedges and Andy Wilkinson serenaded us to the accompaniment of the leaves of the trees rustling in the breeze under a rising Texan moon.
And so it's farewell to the WWA for now until we gather again next year in Cheyenne.