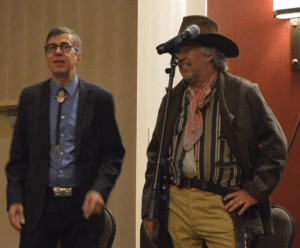 There is always fun to be had at these conventions. Every year someone comes up with a new idea and sometimes they become traditions. And last week we witnessed one of those moments.
Western Writers of America vice president Kirk Ellis, the Emmy, Spur and Western Heritage Wrangler-award winning screenwriter, came up with the idea that members should present a reading of the shooting script of The Homesman, and he would direct. With a mere two hours rehearsal, the production would be a challenge to all concerned.
But as fate would have it, one of the cast, Quackgrass Sally, was sadly unable to make this year's convention and I was roped in to take her place as one of the crazy women being transported back east.
We had a read-through in the afternoon and then collected our period costumes and the wonderful supply of props ranging from a Colt Navy pistol to whiskey jugs and a rag-doll.
Once dinner was over, it was time to raise the curtain on the WWA production of The Homesman. And what a revelation it was. Who would ever have suspected that Johnny Boggs, author, and editor of Roundup Magazine, had such talent! His whiskey-jug toting "drunken" dances and singing will go down as the stuff of legend. And as for his on-stage fight with the Freighter, well nobody could accuse it of lacking realism! Lucia St. Clair Robson starred as Mary Bee Cuddy, stepping into her role as if born to it. Honorable mentions also go to WWA president Sherry Monahan as crazy woman Arabella Sours ("goodbye" will become her catchphrase), to Nancy Plain as the most gracious Altha Carter, and Bill Groneman for the great Irish brogue playing Aloyisius Duffy.
It was all great fun and a brilliant effort thanks to Kirk Ellis being a great director. By the end of the evening we came to a unanimous decision – we must do this again.